01 Jan. 2021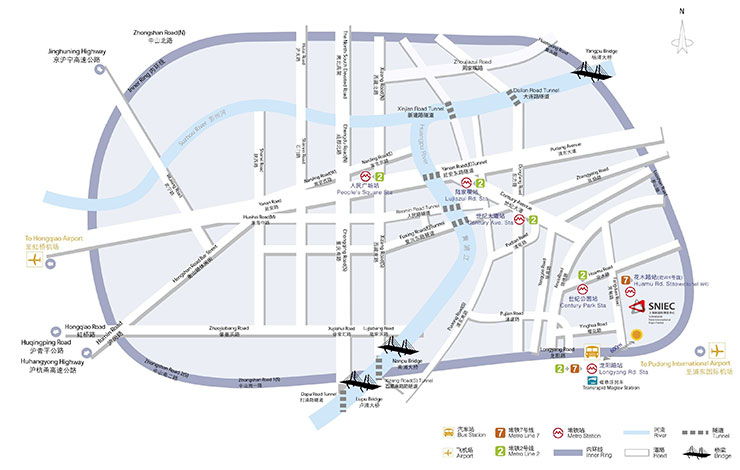 Shanghai New International Expo Centre (SNIEC)
Address: No. 2345, Longyang Rd., Pudong, Shanghai
Tel: +86-021-2890 6888
Website: www.sniec.net/
How to get to SNIEC?
Shanghai New International Expo Centre (SNIEC) is located in Pudong New Area of Shanghai and easily accessible using many means of transport.The public traffic interchange named "Longyang Road Station" for buses, metro lines and maglev, stands around 600 meters apart from SNIEC. It takes about 10 minutes to walk from the "Longyang Road Station" to the fairground. In addition, Metro Line 7 is direct to SNIEC at Hua Mu Road Station whose exit 2 is close to Hall W5 of SNIEC.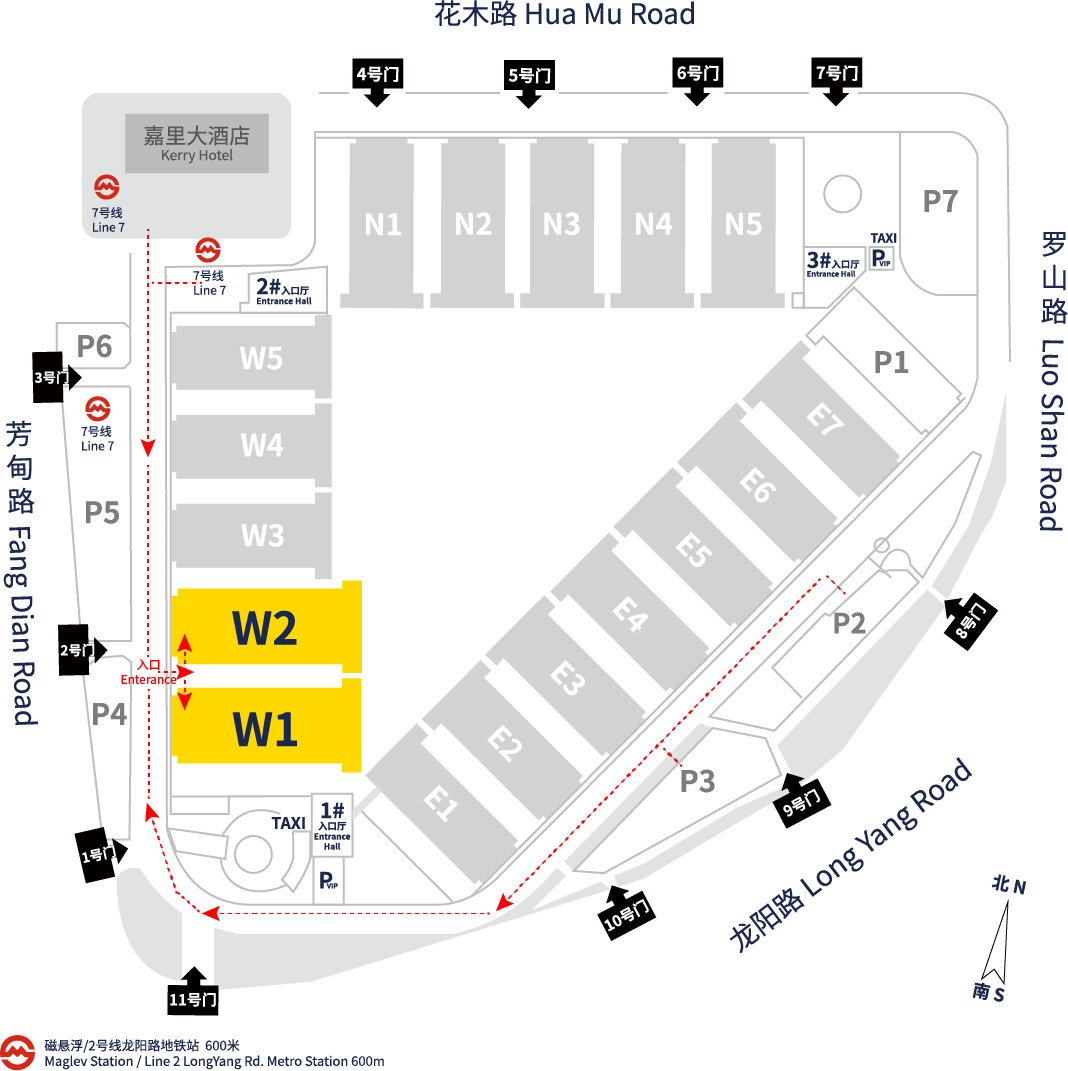 By Car
SNIEC locates at the intersection of Long Yang and Luo Shang roads that lead from the city center over the Nan Pu Bridge and Yang Pu Bridge through Pudong, and is easy to access by car.
Parking lots: SNIEC offers 7 parking lots with total parking space for 4730 vehicles.
Tips:
Small passenger cars with non-Shanghai plates won't be able to enter the area within the Inner Ring Road during peak hours in workdays from May 6 2021.
The cars, which have two to nine seats, will be banned in the area from 7 a.m. to 9 a.m. and from 5 p.m. to 7 p.m. on workdays. There is no ban on such cars on weekends and during public holidays.
If you choose to drive by yourself, we suggest you:
1. Drive from the gate 8 or 9 of Luoshan road to the internal road of the SNIEC.
2. Parking your car in the underground parking garage of Longyang square near the SNIEC (No. 2000, Longyang Road, Pudong New Area, Shanghai). Then you can walk to the South Hall of the exhibition hall (entrance hall 1).

By Taxi
Main central booking offices:

Da Zhong taxi: +86-21 96822
Ba Shi taxi : +86-21 96840
Jing Jiang taxi: +86-21 96961
Qiang Sheng taxi : +86-21 62580000
Nong Gongshang taxi : +86-21 96965

By Metro
Take Line 1 to Chan Shu Road Station; take Line 2 to Jing An Temple Station; take Line 3 to Zhen Ping Road Station; take Line 4 to Zhen Ping Road Station or Dong An Road Station, then interchange Line 7 to SNIEC directly.

Take Line 3 or Line 4 to Zhongshan Park Station; take Line 1 or Line 8 to People Square Station; take Line 4 or Line 6 to Century Avenue Station, then interchange Line 2 to get off at Longyang Road Station where you can walk or interchange Line 7 to SNIEC directly.

By Bus
A number of public bus lines run through SNIEC, fixing stations near by SNIEC: 989, 975, 976, Da Qiao No.5, Da Qiao No.6, Huamu No.1, Fang Chuang Line, Dong Chuang Line, Airport Line No.3, Airport Line No.6.